Frequently Asked Questions
When you spot a tick on a person or pet, remove it right away. If the tick has not attached itself to the host, you can simply pick it up and place it in a plastic bag. If the tick is attached, you'll need to remove it carefully, following the steps listed here.
Using tweezers or a tick removal tool, grip the tick, getting as close as you can to its head.
Steadily pull the tick out. Avoid twisting or squeezing it, which could increase the risk of disease. Do not burn the tick or cover it in substances such as soap or alcohol. It's best to pull the tick out rather than trying to get it to let go on its own.
Place the tick in a plastic bag. Saving it will allow you to identify its species and, if needed, have it tested for tick-borne pathogens.
Clean the bite with an antiseptic such as isopropyl alcohol.
While some redness at the site is normal, this should subside. Watch for signs of infection. If you develop a rash, tenderness, or pain, see your doctor right away.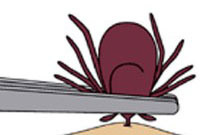 Important: Avoid burning the tick or coating it with any substances such as soap, alcohol, petroleum jelly, or acetone. Covering the tick with any substance or applying heat will irritate the tick and place you at greater risk of contracting a tick-borne disease. Burning the tick could affect the results of your tick testing.
After you have removed the tick, monitor the area for several weeks. Check for signs of infection including rash or swelling. (Keep an eye out for a bullseye-type rash, which may indicate the presence of Lyme disease.)
Laboratory testing is available through the Tick Research Lab of Pennsylvania. Testing can reveal the presence of tick-borne diseases such as Lyme disease, Anaplasma, and Rocky Mountain spotted fever even before symptoms appear.
Average Rating: 5 Stars
Christine Krogermeier gives

3 months ago

While cutting back my perennials on a very unseasonably warm day at beginning of November, I was bit by a deer tick behind my ear right at the hairline. A family member removed the entire tick with tweezers. After contacting physician for preventative measures, I sent bagged tick in envelope to PA Tick Research Lab anxiously awaiting word whether it was infected with Lyme. It took LESS than 5 days from mailing tick to getting full report via email. Text updates came as soon as tick was received, when it was identified, and once test results were ready. A truly fantastic service--highly recommend.

cellsplitter1 gives

3 months ago

As a PA resident my test was free, but I paid a fee for expedited processing. I received my results within a week of sending my tick and within 24 hours of them receiving it. The communication was very effective by sending me notifications by both text and email. They were also very responsive when I called on the phone with questions. They even store your tick for a couple of years in case you need to have it retested later if needed. I highly recommend this service.

Joli Taryla gives

3 months ago

I was able to drop the specimen off and get results in 24 hours, which is so important in the case of needing to treat a disease promptly. The report was very thorough! While i could have mailed it and gotten the test for free, I chose to drive it to the drop box and pay $25 for priority results. This was all 100% worth it as i was testing an engorged tick found on my daughter. I got speedy results with more information than i was expecting. Thank you to ESU and the PA Tick Lab!!

Donald Kozlosky gives

4 months ago

This is an excellent service. I moved to Pennsylvania two years ago and walk my dog in the woods behind my home twice a day. Tick bites are a reality, one that is becoming more salient in the context of global warming. I was glad to learn of the Tick Research Lab and found the service prompt, thorough and professional. I recommend it highly.

Stephanie Price gives

4 months ago

I was very impressed by how quickly I received a response after I dropped off the tick, and then how quickly I got the testing results. It was nice knowing as soon as possible to relieve my mind. It's great that we have access to this service so close to where we live.