Frequently Asked Questions
When you spot a tick on a person or pet, remove it right away. If the tick has not attached itself to the host, you can simply pick it up and place it in a plastic bag. If the tick is attached, you'll need to remove it carefully, following the steps listed here.
Using tweezers or a tick removal tool, grip the tick, getting as close as you can to its head.
Steadily pull the tick out. Avoid twisting or squeezing it, which could increase the risk of disease. Do not burn the tick or cover it in substances such as soap or alcohol. It's best to pull the tick out rather than trying to get it to let go on its own.
Place the tick in a plastic bag. Saving it will allow you to identify its species and, if needed, have it tested for tick-borne pathogens.
Clean the bite with an antiseptic such as isopropyl alcohol.
While some redness at the site is normal, this should subside. Watch for signs of infection. If you develop a rash, tenderness, or pain, see your doctor right away.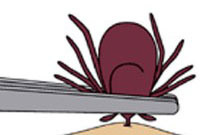 Important: Avoid burning the tick or coating it with any substances such as soap, alcohol, petroleum jelly, or acetone. Covering the tick with any substance or applying heat will irritate the tick and place you at greater risk of contracting a tick-borne disease. Burning the tick could affect the results of your tick testing.
After you have removed the tick, monitor the area for several weeks. Check for signs of infection including rash or swelling. (Keep an eye out for a bullseye-type rash, which may indicate the presence of Lyme disease.)
Laboratory testing is available through the Tick Research Lab of Pennsylvania. Testing can reveal the presence of tick-borne diseases such as Lyme disease, Anaplasma, and Rocky Mountain spotted fever even before symptoms appear.
Average Rating: 5 Stars
Karen Matthews gives

a month ago

The lab staff were courteous and helpful. I received my results within 24 hours and appreciated the expedited service. Since I cross the river often to Pike and Northampton Counties, I'm trying to teach my family members how to go through this testing process in case any symptoms worsen. Thanks!

Lisa Valentine gives

a month ago

Quick service and timely communication. It was very easy to get information online to send in the tick for testing. I had my results back within 3 days. Great experience. I would highly recommend.

Gary Lackovic gives

a week ago

As others have said looks like everyone agrees that results were received quickly and the lab sent me regular updates on the status. Got results within 3 days. Very happy to hear that my deer tick bite was negative for Lyme bacteria.

Ed VanderMaas gives

in the last week

Thanks for your awesome time frame on getting the details on the tick I sent in!! Very professional and courteous!! Would recommend you to all I know!! Thanks for everything, it was appreciated.

Julia Mazzoni gives

a month ago

This lab is great and provided me piece of mind after my 3 year old had 2 ticks on her in one weekend! I got the results just 4 days after mailing in the ticks and it was so simple! Very grateful for this free service!!