Frequently Asked Questions
When you spot a tick on a person or pet, remove it right away. If the tick has not attached itself to the host, you can simply pick it up and place it in a plastic bag. If the tick is attached, you'll need to remove it carefully, following the steps listed here.
Using tweezers or a tick removal tool, grip the tick, getting as close as you can to its head.
Steadily pull the tick out. Avoid twisting or squeezing it, which could increase the risk of disease. Do not burn the tick or cover it in substances such as soap or alcohol. It's best to pull the tick out rather than trying to get it to let go on its own.
Place the tick in a plastic bag. Saving it will allow you to identify its species and, if needed, have it tested for tick-borne pathogens.
Clean the bite with an antiseptic such as isopropyl alcohol.
While some redness at the site is normal, this should subside. Watch for signs of infection. If you develop a rash, tenderness, or pain, see your doctor right away.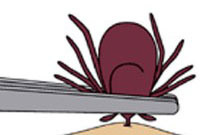 Important: Avoid burning the tick or coating it with any substances such as soap, alcohol, petroleum jelly, or acetone. Covering the tick with any substance or applying heat will irritate the tick and place you at greater risk of contracting a tick-borne disease. Burning the tick could affect the results of your tick testing.
After you have removed the tick, monitor the area for several weeks. Check for signs of infection including rash or swelling. (Keep an eye out for a bullseye-type rash, which may indicate the presence of Lyme disease.)
Laboratory testing is available through the Tick Research Lab of Pennsylvania. Testing can reveal the presence of tick-borne diseases such as Lyme disease, Anaplasma, and Rocky Mountain spotted fever even before symptoms appear.
Average Rating: 5 Stars
Tamara Palmer gives

a month ago

The lab was recommended by my physician. The online process to order a test was seamless and easy. I sent a deer tick on Thursday and had my results by the next Tuesday. I am extremely satisfied and will work with the lab again if necessary.

Debbie Ginnetti gives

3 months ago

I had a very positive experience. They are very efficient and keep you updated throughout the process. They let me know immediately when they received the tick. The service is free with an option of a reasonable fee to prioritize your sample and Speed up the process which already is a fast turn around. The results are very detailed, including if tick is engorged or not and possible length of time the tick was on its host. I have paid a hefty fee in the past that took about 10-14 days for results with less information. I will use this company again if I find a tick on me or my pets.

Amy Rice gives

3 months ago

Great free service for PA residents. We live in an area with a lot of ticks and have sent many to this lab. They are great at letting you know your tick was received, and a few days later, you get an emailed report. Highly recommend. They have given us peace of mind when ticks come back negative and have allowed our doctor to start treatment when they come back positive.

Charles Whitbeck gives

4 months ago

My recent experience with the Pennsylvania Tick Research Lab was extremely positive. The sample submission process was simple and straightforward. After submission, the lab was in contact with me both at the time my sample was received and again when testing was completed. Finally, the test results were communicated in a clear, concise manner. In addition, I was particularly pleased to learn that the lab tailors its basic pathogen test set according to the tick species submitted. This is extremely important as diseases transmitted by different species of tick are not the same. This laboratory/service is an invaluable resource - particularly in a region of the U.S. known for its relatively high incidence of Lyme disease.

Sharon Werner gives

a month ago

Having found the tick after a bite and before falling off, the availability of the PA Tick Research Lab truly brought me peace of mind. The process was extremely simple and the lab was very responsive. It only took five days to receive the test results. Thank you!