Frequently Asked Questions
When you spot a tick on a person or pet, remove it right away. If the tick has not attached itself to the host, you can simply pick it up and place it in a plastic bag. If the tick is attached, you'll need to remove it carefully, following the steps listed here.
Using tweezers or a tick removal tool, grip the tick, getting as close as you can to its head.
Steadily pull the tick out. Avoid twisting or squeezing it, which could increase the risk of disease. Do not burn the tick or cover it in substances such as soap or alcohol. It's best to pull the tick out rather than trying to get it to let go on its own.
Place the tick in a plastic bag. Saving it will allow you to identify its species and, if needed, have it tested for tick-borne pathogens.
Clean the bite with an antiseptic such as isopropyl alcohol.
While some redness at the site is normal, this should subside. Watch for signs of infection. If you develop a rash, tenderness, or pain, see your doctor right away.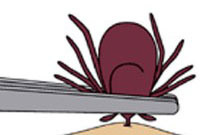 Important: Avoid burning the tick or coating it with any substances such as soap, alcohol, petroleum jelly, or acetone. Covering the tick with any substance or applying heat will irritate the tick and place you at greater risk of contracting a tick-borne disease. Burning the tick could affect the results of your tick testing.
After you have removed the tick, monitor the area for several weeks. Check for signs of infection including rash or swelling. (Keep an eye out for a bullseye-type rash, which may indicate the presence of Lyme disease.)
Laboratory testing is available through the Tick Research Lab of Pennsylvania. Testing can reveal the presence of tick-borne diseases such as Lyme disease, Anaplasma, and Rocky Mountain spotted fever even before symptoms appear.
Average Rating: 5 Stars
Donald Kozlosky gives

a week ago

This is an excellent service. I moved to Pennsylvania two years ago and walk my dog in the woods behind my home twice a day. Tick bites are a reality, one that is becoming more salient in the context of global warming. I was glad to learn of the Tick Research Lab and found the service prompt, thorough and professional. I recommend it highly.

Paul Morris gives

a week ago

Fast and easy! Filled out the online info, printed the form and sent it in with the tick sealed in a small ziplock bag. Had the results in just a few days. Great FREE way to find out if you or your pet need extra medical attention and what the Dr should look for! Also helps monitor the spread of these diseases

The Nail Scientist gives

2 months ago

I cannot say enough good things about this lab!! Super fast turnaround and the text notifications are amazing. Such a needed service here in PA, and while I hope we won't need to use them often, we will not hesitate to use them again and will recommend to others. Thank you so much!

Chris Zanoli gives

in the last week

I have used this business multiple times & couldn't be happier. Testing time is fast turn around, plus it helps them try to get a real image / control on the tick population around your area. Highly recommend.

Quaba6 gives

a month ago

This is a great service to verify if the tick you found was infected or not. Lyme Disease is nothing to take lightly. Last year I was infected and it attacked my heart and I almost needed a pace maker but things resolved themselves with medication. Thank You for the Peace of Mind!