Frequently Asked Questions
When you spot a tick on a person or pet, remove it right away. If the tick has not attached itself to the host, you can simply pick it up and place it in a plastic bag. If the tick is attached, you'll need to remove it carefully, following the steps listed here.
Using tweezers or a tick removal tool, grip the tick, getting as close as you can to its head.
Steadily pull the tick out. Avoid twisting or squeezing it, which could increase the risk of disease. Do not burn the tick or cover it in substances such as soap or alcohol. It's best to pull the tick out rather than trying to get it to let go on its own.
Place the tick in a plastic bag. Saving it will allow you to identify its species and, if needed, have it tested for tick-borne pathogens.
Clean the bite with an antiseptic such as isopropyl alcohol.
While some redness at the site is normal, this should subside. Watch for signs of infection. If you develop a rash, tenderness, or pain, see your doctor right away.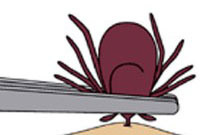 Important: Avoid burning the tick or coating it with any substances such as soap, alcohol, petroleum jelly, or acetone. Covering the tick with any substance or applying heat will irritate the tick and place you at greater risk of contracting a tick-borne disease. Burning the tick could affect the results of your tick testing.
After you have removed the tick, monitor the area for several weeks. Check for signs of infection including rash or swelling. (Keep an eye out for a bullseye-type rash, which may indicate the presence of Lyme disease.)
Laboratory testing is available through the Tick Research Lab of Pennsylvania. Testing can reveal the presence of tick-borne diseases such as Lyme disease, Anaplasma, and Rocky Mountain spotted fever even before symptoms appear.
Average Rating: 5 Stars
Nancy Hayenhjelm gives

2 weeks ago

After removing a tick from my leg on Saturday morning I overnighted it to have it tested. Monday morning they had identified what type of tick and by Wednesday I had a full report of all the tests they had run. I am so thankful for how quickly I got the results. It was a little pricey but worth every penny to have gotten such a complete and thorough report on this tick! Very satisfied customer😊

Shelly Francis gives

in the last week

I am so grateful for this service. The report was fast and complete and the price was very reasonable compared to other facilities. Highly recommend. Thank you!

Lyn Morrissey gives

in the last week

I can't begin to explain the peace of mind this service brought me. Having two family members whose lives have been severely impacted by Lyme Disease, I wanted to be proactive in case I needed to take quick action. Fortunately, it is highly unlikely that I have been infected, so I won't be spending the next couple of weeks worrying about what might happen next. I mailed the specimen off on Monday morning, knew by Wednesday that it had been identified as a deer tick, and by Thursday evening I knew it had tested negative for all the worrisome viruses. Amazing service!

Jim Heerwagen gives

3 weeks ago

This lab is first rate. I pulled the tick out of my neck. 24 hours later - knew that I would not have Lyme. Very professional communications - receipt of package and tick ID confirmed 12 hours after I sent tick from CA. Results later that day.

Beatrice Carlin gives

2 weeks ago

Excellent service. The lab acknowledged receipt of the tic and sent the results in less than 48 hours. Hopefully, the data they are collecting will be useful in the current tic epidemic.