Frequently Asked Questions
When you spot a tick on a person or pet, remove it right away. If the tick has not attached itself to the host, you can simply pick it up and place it in a plastic bag. If the tick is attached, you'll need to remove it carefully, following the steps listed here.
Using tweezers or a tick removal tool, grip the tick, getting as close as you can to its head.
Steadily pull the tick out. Avoid twisting or squeezing it, which could increase the risk of disease. Do not burn the tick or cover it in substances such as soap or alcohol. It's best to pull the tick out rather than trying to get it to let go on its own.
Place the tick in a plastic bag. Saving it will allow you to identify its species and, if needed, have it tested for tick-borne pathogens.
Clean the bite with an antiseptic such as isopropyl alcohol.
While some redness at the site is normal, this should subside. Watch for signs of infection. If you develop a rash, tenderness, or pain, see your doctor right away.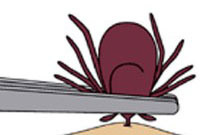 Important: Avoid burning the tick or coating it with any substances such as soap, alcohol, petroleum jelly, or acetone. Covering the tick with any substance or applying heat will irritate the tick and place you at greater risk of contracting a tick-borne disease. Burning the tick could affect the results of your tick testing.
After you have removed the tick, monitor the area for several weeks. Check for signs of infection including rash or swelling. (Keep an eye out for a bullseye-type rash, which may indicate the presence of Lyme disease.)
Laboratory testing is available through the Tick Research Lab of Pennsylvania. Testing can reveal the presence of tick-borne diseases such as Lyme disease, Anaplasma, and Rocky Mountain spotted fever even before symptoms appear.
Average Rating: 5 Stars
John Kelly gives

a month ago

Thank you for your quick and efficient testing. We live in a wooded farmland setting, and it is very helpful to know if we need to go on an antibiotic every time we get a tick bite. This is our 5th tick this year, and only one tick carried virus - thus only 1 (not 5) antibiotic script(s). Thanks again.

Kayla Dunn gives

2 weeks ago

An excellent service that I think is under utilized. Easy to use, completely free, and 100% helpful. I recommend the service to everyone I know! Fast testing of a few ticks that latched onto our dog during a hike allowed us to discover that unfortunately one of the ticks was carrying Lyme disease. We were able to consult with our vet quickly on a plan of care!

Heather Moore gives

a week ago

I have had such a great experience dealing with the Research Lab. We live in an area with a high tick population. I have a family of hunters that spend a lot of time outdoors. I also have a cat that loves to wander outside. If I find a tick attached I send it away to be tested. That way I know how to proceed if there is a positive result. The results come back quickly. So glad I found the Tick Research Lab!

Colleen Brenneman gives

a week ago

This is an amazing program! I sent my tick immediately to them and 4 days later I had my results (That includes mail time). Fortunately my doctor had already put me on Doxy, just knowing I had been bit, because it tested positive for Lyme. Now we can have a plan to moved forward from here. Thank you so much! And it was so helpful knowing that there were no other diseases present either as they are growing rapidly in dogs in our area.

Connie Burrows gives

3 weeks ago

The process and procedure to submit ticks is quite simple. Communication is excellent step by step!! Results were returned in a quick turnaround time!! Very thankful to have this service available and provided free of charge. It has been very valuable for my health concerns and being able to receive treatment in a timely manner.