Gulf Coast Tick
(Amblyomma maculatum)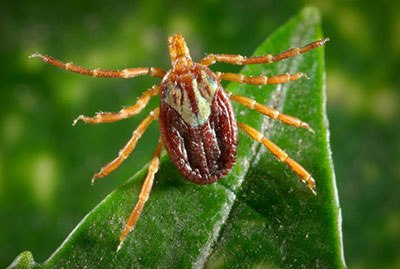 The gulf coast tick (Amblyomma maculatum) is native to the southeastern coastal states boarding the gulf coast starting in southeastern Texas and Oklahoma and moving east to the Atlantic and as north as Virginia. However, there have been a small number of reports of the ticks being found in Maine and Iowa and new populations on the rise in Delaware and Maryland. Gulf Coast ticks prefer grass prairies and coastal uplands for a habitat.
The Tick Research Lab of Pennsylvania is able to detect the most common tick-borne diseases in any of these species. Our tick DNA tests are over 99.9% accurate.
Details
Gulf Coast Tick Life Cycle
Gulf Coast ticks have a 3 host life cycle, where a blood meal is required at each life stage. Immature life stages will feed on small mammals like rodents but prefer birds. They typically target the head and neck region of their hosts. Mature life stages will seek larger hosts such as bear, domestic dogs, coyote and cattle targeting the outside of the ears.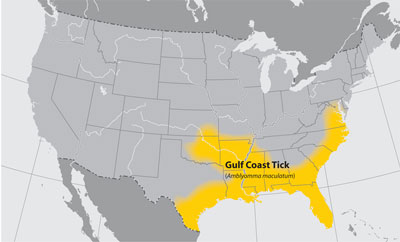 Gulf Coast Tick Behavior
Gulf Coast ticks will quest similarly to blacklegged ticks, by climbing grass and vegetation to seek a host passing by.
Unlike many other tick species, the gulf coast tick prefers a dryer environment.
Life cycle activity can vary based on location. Populations found along the coast will have adults most active in August, larvae in December and nymphs in January with an activity range of May-March. Populations found more inland will have an activity range of February-October with adults being most active in April, larvae in June and nymphs in July. In Florida activity can range from February- September and Mississippi have seen ticks from March-November with peak adult season in late July.
Are Gulf Coast Ticks a Threat?
Medical significance of the gulf coast tick includes the ability to transmit a newly recognized pathogen, Rickettsia parkeri which is suspected to cause Rickettsiosis infections in humans.
They are also able to cause a sickness called tick paralysis. A neurotoxin present in the saliva will be injected into the host if the tick is attached and feeding for a long enough period of time.
Typically, ataxia and paralysis will start at the feet and move up the body. If the tick is removed in time, the symptoms will subside after a day or two. However, if the tick remains attached and paralysis is able to move into the lungs, breathing may become difficult and lead to more severe symptoms.
Gulf Coast Tick Identification
They are easily distinguishable by the ornate markings on their red bodies. Adult males will have clean, white lines in a web-like formation on the entire body and adult females will have bright, white markings on the dorsal shield.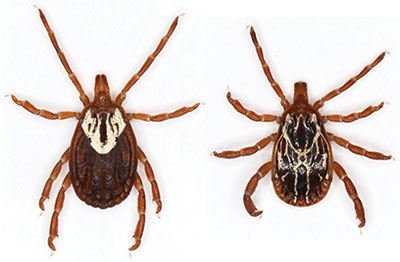 Which Animals Attract Gulf Coast Ticks?
They are known for feeding on small mammals, cattle, and humans.
Ehrlichiosis
Human monocytic ehrlichiosis is caused by a tick-borne bacteria that attacks ...
Learn More
Rocky Mountain Spotted Fever
Rocky Mountain spotted fever is caused by the bacterium Rickettsia rickettsii...
Learn More
Tularemia
Tularemia is a potentially fatal bacterial infection that responds to early ...
Learn More
STARI
Southern tick-associated rash illness is often treated with antibiotics. A rash similar ...
Learn More